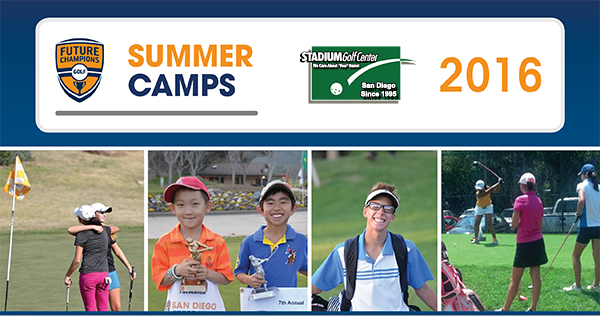 CAMP INFORMATION & DATES: 6/20-22, 6/27-29  —  7/11-13, 7/25-27  —  8/1-3, 8/8-10
REGISTER: futurechampionsgolf.com/camps — Or call 844-324-2377
HALF DAY PROGRAM
9am-1pm each day ($199 Tuition $149 Sale!)
Drop Off and Pick Up Information
- meet at Stadium Golf Center Day 1 and 2
- meet at Sail Ho Golf Club in Pt Loma Day 3

FULL DAY PROGRAM
($299 Tuition $229 Sale!)
Drop Off and Pick Up Information
- meet at Stadium Golf Center Day 1 and 2 (9am-4pm)
- meet at Sail Ho Golf Club in Pt Loma Day 3 (9am-1pm)

Basic Game Improve Camp: This camp is geared towards beginner and intermediate golfers who are looking to focus on the three major aspects of golf and improve those aspects over the three days of camp. The first two days will be at Stadium Golf Center and the third day will be located at Sail Ho Golf Course.  Pizza lunch will be provided days one and two. A hot dog and chips will be provided for lunch at Sail Ho Golf Course. 3-Day Program is a signature program provided by the Future Champions Golf Academy. Players are divided by age and skill and will learn with their peers in a fun and focused environment.  The first two days will be spent at Stadium Golf Center working on full swing basics, chipping and putting practice. Day 3 is a really fun day on the Sail Ho Par 3 Golf Course in Point Loma with the kids playing a 9-Hole Scramble format. All players receive an award at the end of camp.
Student: Teacher Ratio: 8:1 Max plus golf counselors and assistants (regularly have elite high school and college players assisting)
For most camps we split kids into age groups of 6-8, 9-12, and 13 and Up. If possible to also split up by skill level we will.
MISSION: TO INSPIRE OUR JUNIORS IN A POSITIVE FUN ENVIRONMENT TO T