Have fun, relax and enjoy the 10 baseball and 4 softball batting cages our award winning facility has to offer. Our arm throwing machines are provided by Master Pitch-the industry leader.  Don't have your own gear?  We will gladly let you borrow our Bats and Helmets at no additional charge.  By yourself or with your team, our professional staff is here to take care of your every need!
Baseball (40MPH to 70+MPH) & Softball (SlowPitch and FastPitch) Batting Cages
Our lights go out promptly at 10pm…get here by 930pm to make your visit an enjoyable one!
Need A Reloadable Card?  – $2 Activation Fee On All Play Cards Issued – New or Replacement  
Don't have your own bat or helmet?  No worries!   Borrow ours, FREE of charge!!!
1 Play (20 Pitches)
$2.50
$2.50 per Play

12 Plays (240 Pitches)
$24.00
$2.00 per Play
SAVE $6
28 Plays (560 Pitches)
$49.00
$1.75 per Play
SAVE $21
60 Plays (1200 Pitches)
$90.00
$1.50 per Play
SAVE $60!
30 Minute Reservation
$30.00

Call Us To Reserve Cage Time

60 Minute Reservation
$55.00

858-277-6667
We invite you to come down and experience the difference professional service and unparalleled quality makes in your game…because at Stadium Golf Center and Batting Cages "WE CARE ABOUT YOUR GAME!"
Charlie Rose AMERICA'S ORIGINAL BASEBALL SHOP EST.1958 – Our Preferred Batting Cage Partner – Call 408-559-ROSE (7673)
For over 50 years Charlie Rose has provided players and coaches with only the highest quality gear, both on and off the field. We guarantee 100% customer satisfaction with our easy payment methods, UPS shipping and no hassle return policy. Charlie Rose Baseball & Softball Specialists is your "orginal one stop shop" for all your baseball and softball needs at any level of play.
Charlie Rose Baseball & Softball is a leading distributer of sporting goods, team uniforms, athletic equipment, footwear & apparel. We also offer Silkscreening and embroidery services.
Our goal is to provide you with the best price, service, and warranty available.
Charlie Rose Baseball provides "Expert Service without the extra cost"
NEED HELP? 408-559-ROSE (7673)  —  "get the good stuff"
Frozen Ropes @ Stadium Golf Center – Get Your Game On! – Our Preferred Baseball & Softball Instruction Partner – Call 858-485-9399
Frozen Ropes Fall Hours of Operation at Stadium Golf Center
***All Services by Appointment Only***
Our highly knowledgeable staff filled with Professional and College athletes offers instruction at every age level from our Born to Play Class to our popular Player Development Program for the college-bound athlete…see you at Stadium!
OUR AWARD WINNING PLAYER ASSISTANT STAFF — We Care About 'Your' Game!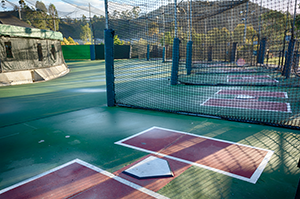 Our Team
Here To Assist You In Having More Fun!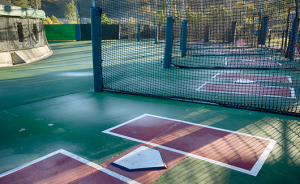 14 Cages & Speeds
Fast Pitch & Slow Pitch Softball & Baseball. Speeds From 40-70MPH. Guaranteed strikes all the time! Fun at lunchtime. League / team practice in the evening! Tokenless swipe card system. Reservations accepted. Helmets & Bats provided at NO Charge!
10 Baseball 4 Softball
3 Slow Pitch Softball
1 Fast Pitch Softball 50mph
10 Baseball Speeds 40-70mph
Guaranteed Strikes!
District 33 Support
Helping young people develop character, discipline and teamwork while maintaining physical and emotional well being through Little League Baseball.
Contact Mark Hammond For Information
Our District is located in San Diego California and is comprised of 15 leagues. Our area covers parts of San Diego and La Mesa from Balboa Park to Mount Helix from Highway 94 to Highway 52.

People Love Us On Yelp!
My son and I love this spot! So many spaces to practice without being bothered. Batting cages are great too..the speed and angles are adjusted to your liking. The fact that you can add money to a card is awesome, because when my son has had enough, we always come back for more.
More Yelp Comments
I usually tend to come here for the batting cages however. They have a good number of cages and my favorite part is the fact that they offer BOTH fast pitch and slow pitch for the softball cages.