Professional Award Winning Custom Club Fitting
Our Goal "Maximize Your Playing Potential" With
Game Changer 2 Launch Monitor – Get Fit Outdoors!
 Our GC2 Launch Monitor delivers unmatched ball analysis accuracy in your Club Fitting delivering ball performance data in real-time.  The GC2 provides precise analytical output to help your club purchase decision.  Hit a wide range of brands, models and customizations and clearly see which work best for you. Your informed decision can be based not solely on overall feel of a club, but also on the detailed data of how each club performed with your individual swing.  It's the club-fitting technology of choice for Stadium Golf Center.  The GC2 gives you flawless performance on every type of golf shot – including flops, chips and putts that other launch monitors and golf simulators miss.  Regardless of the environment, or the hitting surface, the GC2 delivers consistent, real-time results with incredible accuracy.
Club Fitting Appointment Session Availibility
Mon
Tue
Wed
Thu
Fri
Sat
Sun
Coleman
Mullin
OFF
7:30AM - 12:30PM
7:30AM - 12:30PM
1:00PM - 7:00PM
10:00AM - 5:00PM
9:00AM - 3:00PM
OFF
Bill
Buse
10AM-4PM
1:00PM - 7:00PM
1:00PM - 7:00PM
7:30AM - 12:30PM
OFF
OFF
9:00AM - 3:00PM
Club Fitting Session Services and Fees
| | |
| --- | --- |
| | |
| Putter Fitting Session | $50 |
| | |
| Driver or Fairway or Hybrid or Wedge Session | $50 |
| | |
| Complete Set Of Irons Fitting Session | $75 |
| | |
| Woods, Hybrids, Irons, Wedges & Putter Fitting Session | $100 |
| | |
| GAP Fitting Learn How Far You Hit Each Club In Your Bag | $75 |
| | |
| Retro Fit An Existing Set Of Irons | $75 |
50% Fitting Fee 
Rebate

 On Your Custom Club Fit Purchase!  — Titanium Members Never Pay Fitting Fees!
Many people overlook the importance of having the correct loft and lie angles for their irons, wedges, and putters. There isn't a certain lie angle that is right for everyone. From time to time your irons, wedges, and putter may need to be adjusted to fit your swing or putting stroke correctly.  We have one of a limited number Scotty Cameron specific putter bending machines available to our customers.  Please visit us in our golf shop for a club fitting to check the specifications relative to your putter.
Stadium Golf Center Club Fitting Systems
Taylor Made Golf
Nike Golf
Titleist Sure Fit
Cleveland Golf
Cobra Golf
PING Golf
US Kids Golf
Tour Edge
Callaway Golf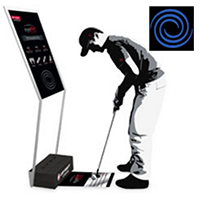 Odyssey Golf
Mizuno Golf
Scotty Cameron
Thousands of Happy Customers Since 1995!